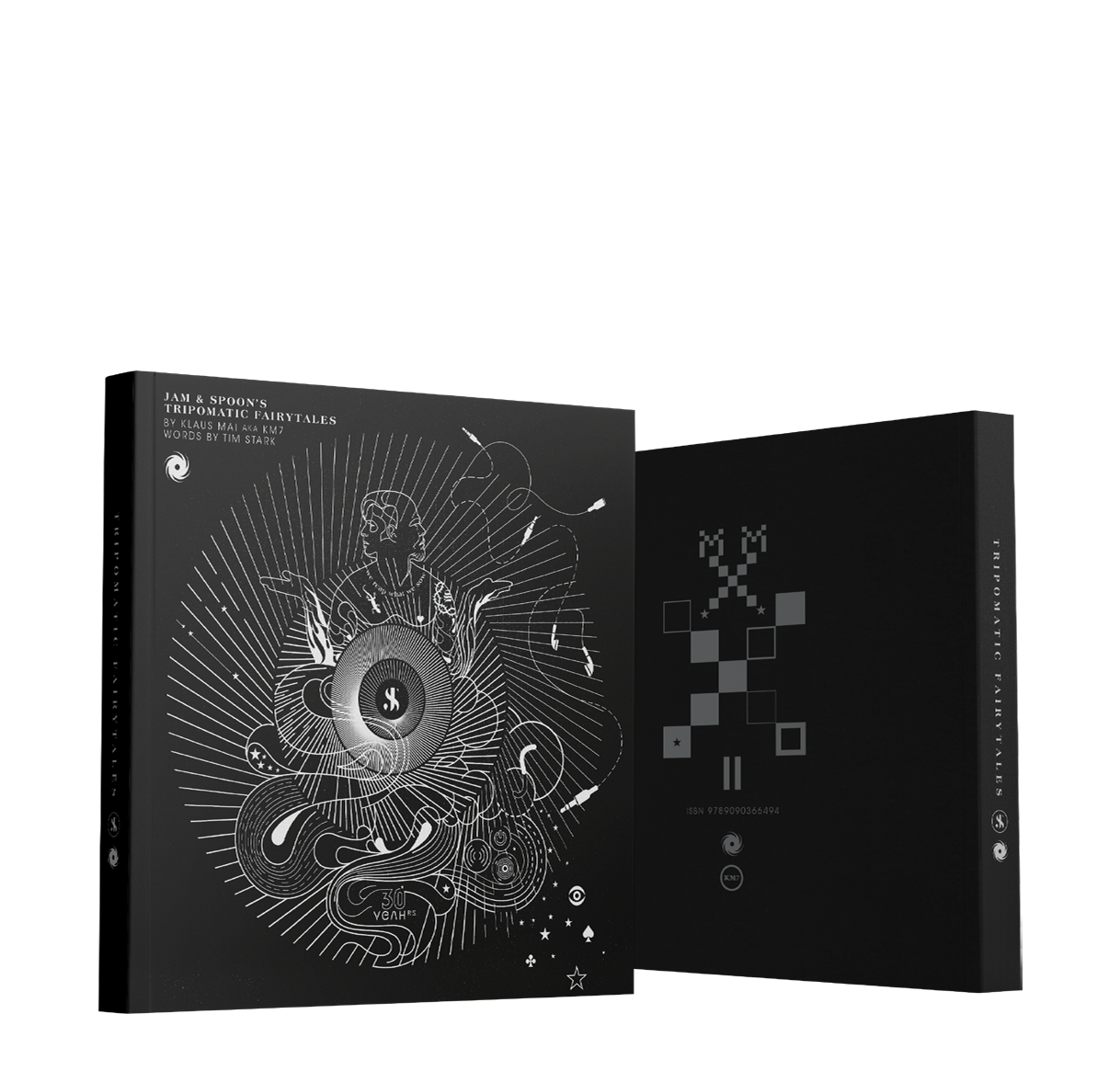 In April of 1993, Jam & Spoon released an LP that became the first artist album example of a major new electronic music sub-genre. Now, 30 years later you can be the owner of a limited edition coffee table book in celebration of the album's anniversary.
numbered edition of 1.000 192 pages containing exclusive artwork by Klaus Mai, designer of the original Tripomatic Fairytales albums the history of Jam & Spoon, written by Tim Stark more words by Louis Flanigan, Anita Blasberg, Rodolfo Wehba and Arny Bink interviews with Jam El Mar, Plavka, Tokyo Ghetto Pussy includes 3 CD's of Tripomatic Fairytales 2001, 2002 and 3003, all remastered includes 1 CD of Tripomatic Fairytales [The Official Remixes] size 30 cm x 30 cm x 3 cm (size of a 12" Vinyl)
The idea to mark 'Tripomatic's 30th anniversary came from Arny Bink - the owner of Holland's Black Hole Recordings. Played daily at his and Tiësto's Magik Muzik record shop in the 90s, the album became highly influential on the pair. However, it was only 25 years later (at 2018's Amsterdam Dance Event) that Jam El Mar and Arny first shook hands. From that meeting, the idea to do commemorative justice to the beloved, scene-setÉ ting album became a joint venture and the project began to take shape. Jam and artist Klaus Mai, who through his KM7 Designbureau had created the original, now instantly recognisable 'Tripomatic' artwork, had remained close friends. KM7 however had long since left the world of music design to focus on other areas (amongst them, famously, the design of the Leica Museum in Wetzlar, Germany). Rolf offered to fly Klaus over (literally, having just qualified for his pilot's license) to Black Hole's Breda home base to discuss his participation.
There, Klaus was drawn by the suggestion that he expand his original, single piece of 'Tripomatic' art into a substantial, coffee table-sized book. This in turn would essentially form a new gallery-like exhibition, taking his original 'Tripomatic' vision to its ultimate conclusion. Mai went to work and over a three-year period, designed dozens of new pieces inspired by his original sleeve, all of which are now richly detailed between the book's pages.
With its art in motion, Arny began looking for someone to author the book, ultimately bringing in Tim Stark, who, during his 20 years as DJ Mag's Trance Editor, had become a prominent voice on the scene and its music. Through a series of articles and interviews, Stark pieced together 'Tripomatic's fascinating backstory. The book also examines the cultural, social and political climate inside J&S's native Germany at the time of its creation, and the impact it had on the album itself. In conversation, Jam El Mar also reflects on where this first-of-its-kind LP drew its own inspirations from (some dating back another 30 years), as well as the tragic loss of the duo's Mark Spoon in 2006.
The book is also accompanied by a 4xCD 'Tripomatic Fairytales - 30 Years' album. It features remastered versions of the three Tripomatic LPs (2001, 2002 & 3003), as well as a disc of new reworks of '2001's. tracks. Working in close collaboration with Jam El Mar, over several years, Black Hole Recordings A&R's Arny Bink & Mark Meeuwissen collaborated with many remixers on the project. That brought about a fascinating 'Sliding Doors'-type perspective, giving an idea of what 'Tripomatic 2001' might sound like, had it been produced today. Among those contributing new visions are Paul Daley (formerly of Leftfield), Pig&Dan, Jerome Isma-Ae, M.I.K.E. Push, Wehbba and others. Spanning, trance, its loco parentis, techno, dub and other sub-genres, it provides a fantastic 30-years-later revision of the album.